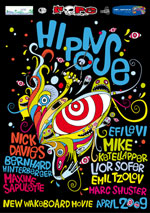 I spent now 20 days in Turkey for filming, I really enjoyed the time and I have to say they are doing a great job, I cant wait to see the movie. To give you a little inside what you can expect in April I made the following interview with the main man!
12. Dez 2008
Interview with Vule Cupic about the Hipnose Wakeboard Movie!
Vule is the initiator of this movie. In this interview he is talking about the making of, the idea, costs, equipment, good times and bad times… so check it out!
What inspired you to do this movie? How did you find the idea?
I started dreaming about this after E-70 (first movie we did in 2005)! My Idea is to make it a little bit different than the other movies and show the group spirit and lifestyle. It is not just about your riding, it is also about your friends, it is about pushing each other. That's why we made 4 groups or parts, each one made up of 4 riders so every rider helped the other rider look better. One is good on obstacles, the other one on sliders and together as a team it will be fulfilling the part with more tempo. It's like at a jam session at a music festival.

Why Turkey and how did you get together with the Hip-Notics crew?
Emil met Sedat in the Philippines and he told him about this cable, so Emil called me one day and said: "let's go to Turkey, they opened a new cable." We went there for a 4 day trip in September, then we decided to do what we already wanted to do the last years. The location was perfect and the first talks with the management worked out good. Baris, the manager and the owner, Metin, are great men. There is a space connection between everybody. There is always one place where everybody and the whole energy is. Once it was in CWC and now it is in Hip-Notics.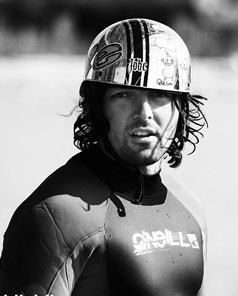 How did you decide for the name Hipnose?
First of all, it's because of the name of the cable and second, because wakeboarding has a hypnoses effect. You're following something and you go in a trance, you go with the flow!

When do you think the movie will be finished and how long would everything need?
We started organizing in September and after the first meeting with Metin, we made the decision to make the movie. We had 60 days of filming from Oct. 20 to Dec. 20. Montage and editing will take 1 month and post production will take 2 months or more. We will probably be ready at the end of April.

You want to talk about the cost? Approximately?
80.000 € – 100.000 €.We first wanted to make it with less money, but Christian Grüner put the standard so high that it was impossible. We wanna make it one of the the best cable movies!

I saw you used a lot of cameras? You wanna tell us a bit about the equipment and filming crew!
We work together with the Art Division Studio and Fright Picture Studios. There will be a lot of animations in the movie. We do everything in HDV and we used 3 cameras. The biggerst camera (used by Vlada) is very professional and costs 12.000 €. Emil used the second camera (Sony FX 1) and he did a lot of shooting from the jetski. I filmed with a smaller camera.  Vlada is a video professor at the university in Belgrade and Canada. He was here for 40 days of filming. At the beginning, he gave Emil a fast 10 day course and after that, he did a great job. We are really proud of Emil.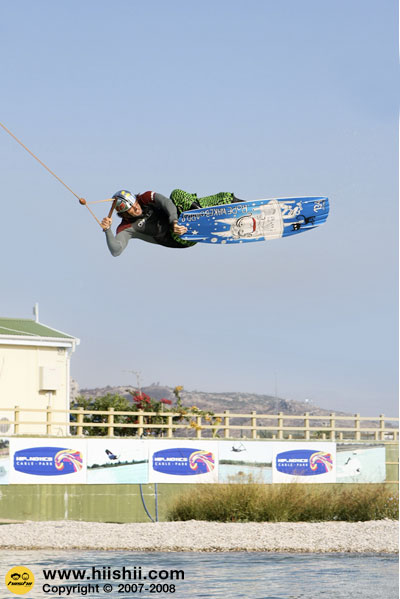 Vule doing roll blind nuclear
Who is sponsoring the Movie?
After Rope Wakeboards and Hip-Notics Cable park, Rixen Cabelways is the biggest sponsor. With them, everything is easier and they are a good support.

How many tapes did you film?
We have around 70 hours of material and we let the riders see the footage everyday. They could decide what we capture in or not.

How many different nationalities and riders were in the movie?
Counting Diego, who is Colombian and Marc, who is South African and including Turkey, we have 13 nationalities and 17 Riders!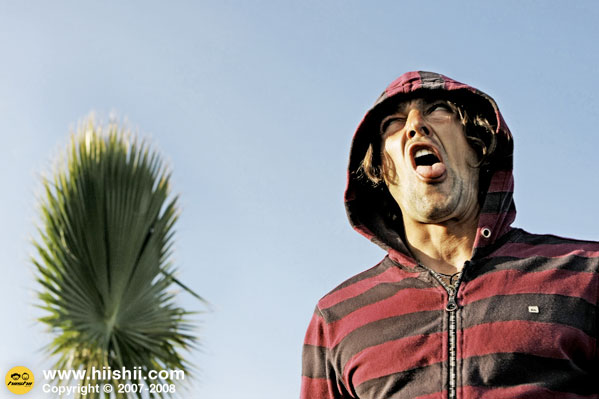 Vule doing the ugly face
Name the groups and riders?
First group: Mike Ketelapper (NL), Bernhard Hinterberger (GER), Maxine Sapulette (NL), Emil Tzolov (BUL)
Second group: Chris Grüner (GER), Dominik Gührs (GER), Bakro Balazs (HU), Aye Tatsanai (Thailand)
Third group: Efi Levi (ISR), Marc Shuster (USA), Diego Shaw (USA), Lior Sofer (ISR)
Fourth group: Nick Davies (UK), Keith Lidberg (USA), Andy Kolb (GER), Daniel Fetz (AUT)

How long will the movie be?
30 to 40 min.

What was your favorite part in the film and why?
My favorite part was Efi and Nick's interview and acting scenes. I had to laugh so much I couldn't hold the camera still, so they threw me out of the set. Efi is the biggest acting star, he can go to Hollywood after this ☺

What was your hardest day during filming, and why?
There were a few hard days because we always filmed in the morning (6.30 am), but there was one day where I almost felt unconscious at 9 pm, just a beer repaired me. We filmed 16 hours that day.

I know you filmed cable tricks which the world has never seen before? Can you name a few?
Marc Shuster landed a Big Worm blind. Maxine Sapulette is the first women in the world who made a double s-bend and a mobe. Nick Davies did a KGB 540 on the flats, he called the trick ABC! I think he is definitely putting new standards in wakeboarding. Then, we got a KGB 540 on the kicker from Bernhard! We got a grabbed mobe, double grab combinations like nuclear tail grab roll to blind, s-bend nose tail grab blind, etc….

Were there any surprises or problems?
Diego Shaw was the biggest surprise for me. He was jumping 1 meter higher than everybody else! Kim couldn't come because of the strikes in the Bangkok airport!

I see you had a professional photo crew?
Yeah, Katharina and Urusch (Hishii.com) stayed 38 days with us. They put a small selection of photos online at boardforce.net and ropeclothing.com, but the best photos we keep for the magazines.
Which magazines?
We already have agreement with Wakeboard Europe, Unleashed, Wakeboarder Hungary, The Australian Magazine and maybe the American mags too…

How was the weather during filming!
In 60 days, we had maybe 6 days of rain.

Is there anybody you want to thank?
The biggest thanks goes to Baris, he was driving all the jetski scenes and helped out where ever he could with the best courage. Then, I also wanna say thank you to Sedat, to Nelly from Boardforce.net , to WWA Europe and of course, to all the riders and crew. Special thanks to Metin because without him nothing would have happened!

Interview by Daniel Fetz
11.Dec 2008