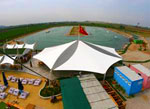 Turkey offers wakeboards All-year-Round option!
25. Sept 2008
Located on the southern coast of Turkey is the beautiful city of Antalya, where summers last for eight months and even winter days are mild and pleasant.
Just 25 minutes from Antalya's International Airport is Hip-Notics Cable Ski Park. Finally, the possibility of year-round riding, so close to Europe's major cities!
Hip-Notics consists of 3 man-made lakes, continually fed by cool mountain run-off water on its way from the Taurus Mountains to the Mediterranean Sea.  The lakes are approximately 170 cm deep, shallow enough to keep the water pretty warm most of the year. Located at the foothills and on the main Antalya-Manavgat road, Hip-Notics is as convenient as it is beautiful.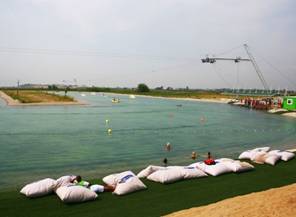 Hip-Notics' lakes cover approximately 90,000 square meters of the property's total land area of about 200,000 square meters. 

The six-pylon L-1 is 350 meters long, designed to accommodate skiers.  Advanced skiers can challenge their skills on L-1's slalom course.
L-2 is shorter and consists of five pylons.  L-2 also has 2 kickers (large and small), a 16-meter fun box and a 12-meter table.
L-3 consists of two "Easy-Start" systems.  One is used to train beginner-boarders and the other one is used exclusively for wakeskaters.
Hip-Notics offers something for everyone!
Although the park is not yet designed to accommodate overnight guests, there are some simple bungalows on site that may be rented, subject to limited availability.  Check out our M2M Programs offering special weekly and monthly packages from October-December. Alternatively, the closest hotels are located only 15 km away.  Off-season prices are very affordable for hotels and car rentals in Antalya.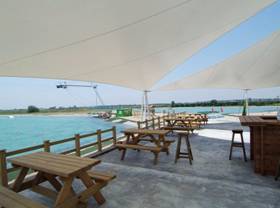 Hip-Notics' pro-shop carries essentials and some non-essential items for the shoppers.  Professional photographers are on hand to take your picture or to video tape you as a tool for your continual boarding improvement.  Wi-Fi is available throughout Hip-Notics so you can keep in touch with home and work.  The Café offers fast food options.  Lots of oversized pillows are scattered along our shores so you can relax whenever you are not boarding/skiing.  Hip-Notics is equipped with a professional sound system and speakers all around the lakes, so you can listen to your favorite music while gliding on the water.  Night riding is also available and will be a delight on our illuminated lakes.
In short, Hip-Notics is the place that riders have been dreaming about.  Only a couple hours away from Europe's major cities, yet warm, friendly and fun.  Hip-Notics is also available for special camps, clinics or corporate events, in season or off-season.
 
For more information, please visit: www.hip-notics.com.tr or contact: info@hip-notics.com.tr 
Text: PR