Gratulation an Hermann Emmer
zum 3.Platz bei den Masters.
Starke Leistung ebenfalls von Astrid (Open Women), Emilio (Junior Men) und Kevin (Junior Wakeskate) da alle den 6ten Platz in ihrer Kategorie gemacht haben.
In der Teamwertung belegten wir Platz nr. 5 (von 13 Nationen)
Morgen gehts weiter mit dem Worldcup – watch out!
---
Semifinale Samstag vormittag
Damm it, habs leider verbockt und bin nicht weiter, scheiße.
Bin jetzt ober motiviert für den Wordcup am Sonntag.
Good News, der Emilio hats ins Finale geschafft. Somit sind Herman, Astrid, Kevin und Emilio fix im Finale. Watch out today 18.00!
Qualifkation Freitag
31. Juli 2009
Heute waren die ersten Qualifikationen, Herman Emmer (Masters) und ich haben unsere Gruppen gewonnen. Astrid ist 4te geworden. Philip, Rene, Kevin und Stiffler müssen LCQ fahren. Anbei die ersten Bilder:
Blick von unserer Hütte runter auf den Lift (rechts) und links sieht man den Skilift fürn Winter. Unsere Hütte ist übrigens am höchsten oben und nur nach 15min Wandern erreichbar. Fühlen uns hier wie bei der finnischen Bergführer Ausbildung.
Opening Ceremony am Donnerstag. Durften das Rentier sogar streicheln. Rentier ist nicht billig aber schmeckt  ausgezeichnet.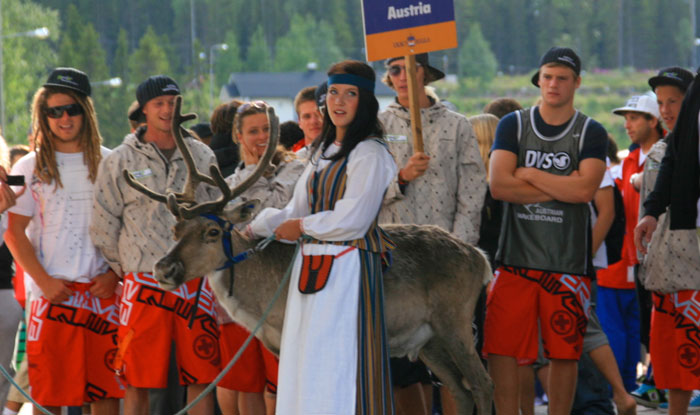 BBQ Dienstag Abend bei uns in der Holz Hütte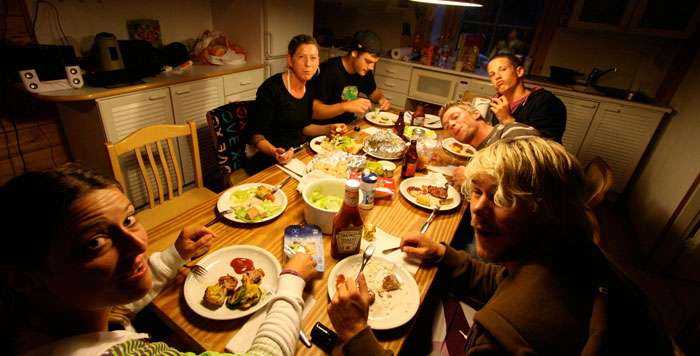 Hab beim Front Mobe im zweiten Lauf, nach einem Tumble turne, etwas zufrüh ausgelöst und die Leine mitgenommen. War sehr spektulär und es ist zum Glück nichts passiert.

---
Austrian Wakeboard Team in Finnland bei der Cable EM:
Mit 8 Startern geht das Österreichische Team auf Medaillenjagd in Ukkuhalla.
Mit dabei sind:
Open Men: Daniel Fetz, Stefan Lebwohl, Rene Rappl
Junior Men: Emilio Epstein, Philipp Turba
Open Ladies: Astrid Schabransky
Masters: Hermann Emmer
Wakeskate: Kevin Cobb
---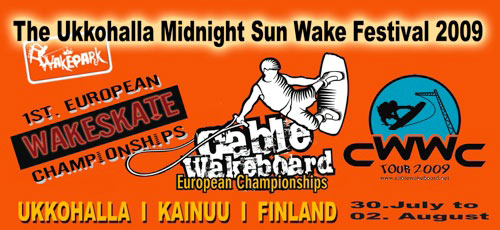 The upcoming Ukkohalla Midnight Sun Wake Festival will feature live coverage from 8 cameras delivering the finest selection of Cable Wakeboarding  from Finland.
We are eagerly looking forward to see amazing pictures from 3 big events that weekend. The  European Championships for Cable Wakeboard and Wakeskate together with  the 2nd CWWC Tour Stop will challenge the world's best Wakeboarders and Wakeskaters to prove how captivating and intoxicating this sport is. Not only boardsport fans will be fascinated by its appeal on screen.
Already the Europeans 2008 attracted millions to follow the live broadcast from Sukay Park in Bursa, Turkey.
Like last year the retired Australian Pro Wakeboarder Clint Liddy will accompany the boarders and skaters on his mic which ensures competent top notch moderation.
More than 25 specialists will be on location to support the TV production. To make sure everything is delivered in real time a special connection to a transmission tower 1.5km off is set up. A sophisticated concept makes it possible to choose from 8 cameras to get the best shots on air and the huge video wall will entertain the fans on location. Both the audience at site and at home won't miss a detail and can look forward to amazing slow motions, informative rider profiles and live results on screen. Highlight shows from the qualifications and the youngsters will complete the picture for everyone.
An event like this requires a lot of manpower. Many platforms need to be installed on the water, hundreds of cable connections have to be made and a large amount of technology needs to be set up. Without the help of many volunteers and the council member of the IWSF an event on this level wouldn't be possible, according to press representative Andreas Boes from the accompanying agency ID+MA.
We are lucky to work together with the Ski- and Wakeresort's professional management in Ukkohalla. Due to the thousands of tourists every year the Ukkohalla crew is well prepared to host and manage big professional events. For example more than 10.000 sport enthusiasts travel each year to this fantastic resort to celebrate the official Swamp Soccer World Championships. Whether you are coming during winter to snowboard or for their short summer season to wakeboard, Ukohalla's hospitality guarantees pleased visitors and lots of frequent guests.
To get an impression of what you have to expect from wakeboarding's biggest event this year have a look at the trailer for the Midnight Sun Wake Festival on cablewakeboard.net
By the way, it's certain that there will be live coverage from the CWWC Tour Final in Bursa, Turkey too. After all, the world should know who is going for the big prize money of 120.000 US Dollar at this final stop.
 
More information on above mentioned events, the concrete airtimes and all official logos & pictures are published on cablewakeboard.net
Press Contact & Accreditation
www.cablewakeboard.net <http://www.cablewakeboard.net>
 
ID+MA GmbH & CO KG
Agentur für Sport Kommunikation
Im Blankenfeld 2
46238 Bottrop
 
Tel : +49 (0)2041 78 25 77 3
Fax : +49 (0)2041 78 25 77 1