This is one of the wakeboarders that I really respect, cause he is the first one I ever met. He was there when I was learning how to make my first circle and he never hesitate to give me any tips again and again, so if I would have chance to start again I would definitively pick up Fetzysworld camp, cause he is one of the best "tipgiver" that I ever met, but he is more than this, he is a good wakeboard friend, he is good partyguy and when you meet him in a person you will know why people really like him… cause he is just being Fetzy 😉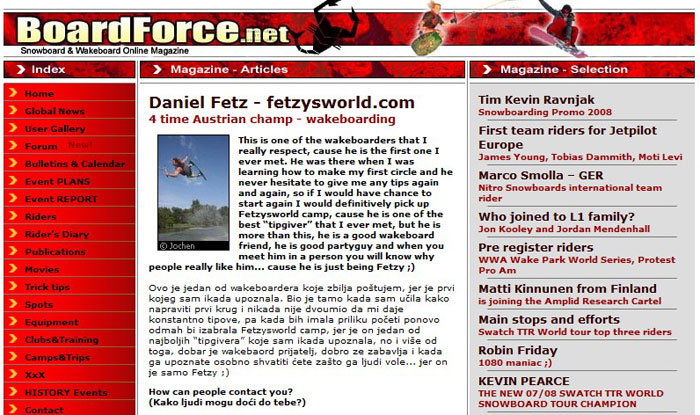 How can people contact you?
Write me an E-mail at info@fetzysworld.com
What is your homepage?
www.fetzysworld.com
Where do you live? Country, town.
Austria, Gramastetten, that is 15 min north of Linz.
Date of birth?
3.11.1984.
Where is your home cable?
Jetlake Feldkirchen
And your best cable?
Jetlake & CWC
When did you start riding?
1998
How did you start riding?
Together with my dad and some friends. We came regularly to the cable and did some kneeboarding, ride with the round plate or skurfer, etc… just messing around and had some fun. And one day the owner from the cable brought a wakeboard over from the States!


What equipment sponsors do you have?
Liquid Force, Neilpryde, Fox, Electric, Osiris
Club and team?
Wakeboard Club Feldkirchen
Stance?
Regular
What is your favorite and your best trick?
My favorite tricks are spinning tricks and best trick is probably the switch toeside frontside 900.
What is your best competition result?
This season: 2nd on ECWT's Final Marburg in Germany.
And the years before, I had definitively the best feeling after my 2nd place at the World Championships (Juniors) in Australia 2003.
What are your plans for the future – competitions, tricks, business, etc.?
To have a balanced life, not only wakeboarding, also friends, family and health! I am sure I will participate in the next Worlds, 2008, 2010, maybe more… I don't now jet! Fetzysworld School and Camps are slowly growing and improving every year, I get more experienced in coaching and customers are very satisfied!
How long I will do it, can not say, as long as I like it and as how long as the people like it.
What do you think about wakeboarding in your country?
Since four years ago European and worldwide biggest cable competitions are taking places in Austria. Media is full off wakeboarding and many people know it or already try it out by them selves. We just have four cables but three are pretty good equipped with obstacles!
Is there something that you would like to change?
The wakeboard industry in Austria is still very weak because it's a small country and this means that it's hard for them to support and sponsor good riders. Two out of my three main sponsor companies are sitting in Germany!
You ride behind boat and also cablewakeboarding. What you like more? And where you make better tricks?

If there is a good obstacle set up on the cable I definitively prefer the cable, if not boat is better. On the cable I can do more and harder tricks!
Wakeboard sometimes hurts? When does it hurt the most?
When you land straight on your face and you hear the bells and see the stars!


What is your inspiration for new tricks?
It's the personal satisfaction if you land a new trick. You feel good, happy and full of adrenalin. And I always want to get this feeling again, that's why I am keeping on learning new tricks!
What is your life motto?

It is good to know what are your feelings and what do you want!
Give love and you will receive it back, most of the time in another way, but it is coming!
Can you describe your best winning – Run, announcement, everything what was important for you?
Actually I never landed all of my favorite and the hardest tricks in a final run. The most of the time I feel like I should made much easier run putting risky tricks out, like at the Austrian championships (4 times Austrian champion).
What was the biggest competition for you? And what was the best and because of what?
The Worlds in this year (2006) at my homecable was the biggest and best competition ever. But the most prize money I got 2003 in Graz (also Austria) there was the One Wakeboard Masters with freaking 30.000 euros prize money and I took the 5th place out!
Lots of beginners have fear before competitions. Is it normal? When it stops, how it stops, if it ever stops? What are you thinking before starting your run?
Fear, or should I better call it "to be nervous", is completely normal and natural. Sometimes it help to you, I had already better experience when I was nervous before. Sometimes it's good and sometimes is not, depends on the situation and depends on you!
What is the best music for you on a lift? Sound of cutting water, sound of obstacles under your board or just music on big speakers?
Definitively without music on a big speakers, cause I always ride without music! I like silence, just me and the board in a late evening session, not many people, just a few friends on the shore watching!
What are you crazy after wakeboarding?
Hang around with a friends and watching the photo or video footage from today.
How many days you have on water?
Depends how hard I ride and where. At home if I do lots of inverts on the cable, I can do it maximum three days in a week. Just with obstacles about 5 days a week. And when I am in Thailand behind the boat, I just take one set a day and sometimes take a day off and driving on the cable!
What are you doing other time?
This autumn I started to do a lot of mountain biking, I have so many nice off road tracks in front of my door! Then I also like climbing indoor and outdoor! But I also sit a lot in front of the computer or are behind the photo camera!
Yes I know for "snowboarding Fetzy". I saw your snowboarding material. It was really funny to see your first backflips 😉 What affected on you to choose wakeboarding for first sport?
Because the risk of getting injured is not so high, and than I also got the chances to work in winter as a wakeboard instructor (www.air-time.net) and here we are. I skipped already three winter season in the last 4 years.
You are always somewhere "around globe". When are you planning to come again in Croatia? I want to see some new tricks from you and hear trick tips for next summer 🙂
Maybe 2007 on the ECWTs! And hopefully it won't be too windy!
You have seen lots of countries and lifts. Which country stayed in your heart and because of what?
I definitively have the closest relationship with the Thailand! Because I already know so many people here, the surrounding and climate are so nice, you have many other activities to do, the culture and rituals are really interesting and slowly I started to understand the language!
But I also had good wakeboard experiences in other countries like Australia, USA, France, Hungary…
You are coming back home and have just 5 EUR in your pocket, what are you thinking?
I think: wow I had such a good time that I spent all of the money, and now I have just 5 bucks left, who cares, let's go for a drink!
Three things what you would take with you on a trip?
Wakeboard, notebook and photo camera!
What was the best thing that someone did for you in wakeboard and in real life?
The best thing in wakeboard for me was when my dad bought me my first wakeboard. And in real life maybe the sunset blow job on the back of the boat 🙂
When you see a girl what she can do to make your heart stop?
Just read the last answer again!
What sweets she can buy to surprise you with?
As long as she is sweet enough, she doesn't have to buy anything!
The craziest thing you did in your life?
Difficult, there are a few things, but maybe when I went home with two lady boys in the same time!
How can u describe your friends?
Everybody is so special and they are not all wakeboarding, but it doesn't matter. You can have those special conversations that you sometimes need, and if you really need them, they are there!
Is there something you want to tell except stop with questions 😉
Go big and lose weight!
Sunny greetings from Thailand, cu soon Nelly!
And don't forget to feeeeeeeeeeeeel the love!!!


Copyright: Nelly Mance & boardforce.net 31.1.2007